Welcome ~ Home Page

The Morningsage Goldens kennel name originated in Southwestern
Minnesota, where we became interested in showing our dogs in the late 1960's
and eventually becoming Breeder/Ownder handlers 1970 through the 1990's.
My last "Morningsage" litter in 1999 gave me "Win" and "Glitz", who remained
with me as loving pets. I continued showing my "Brylin" Welsh Springer and "Advent"
Golden boy on a limited basis into 2006, when a life change brought me to Iowa.

My website is now about sharing my dogs who are my family, but you can still peruse
my photo history of Morningsage dogs via the drop down menu below if you are interested.
You will also find navigation to my Grooming Tutorials there.
The last of my five Goldens that I moved to Iowa, "Talon" died in June, 2012, so "Boozer"
my CH,CGC & TD "Brylin" Welsh Springer, is the only original dog still living in 2014!



Click Here to View Slide Show of Current Dogs:

The Photos Below were those last updated in 2011:


"Jamie", the BIG girl on the left came into my life in Feb. 2011, when Iowa Golden
Retriever Rescue found it necessary to find another hospice Foster home for her. She
came pretty close to "perfect", and was a joy and much loved until she passed in Jan. 2012.
The photo of "Win" below is a composite of a pencil drawing of him at 1 year of age, done
by my late friend & artist Janie Wormsbecker, and a small inset photo taken just before
he went to Rainbow Bridge in July 2011 at 12+ years of age.<




Boozer & Talon "Snow Run" 2010


just before their 7th Birthdays!

Glitz Lookin' for More! My sweet girl went to the Bridge
Jan. 2011 and I miss her so!

And here is Talon at 5 yrs of age:

Boozer at 6 years of age:

"Talon" at 11 wks.(2003) a.k.a a "Fish Guppy"
is "Advent Morningsage Talon" He is a
"Striper x Scurry" kid, bred by
Jane Fish & Sue Nation.

"Boozer", a.k.a. Brylin Morningsage H'eyeball,


at 13 weeks in 2003. My first deviation

from Goldens in many decades.
"Michael" is pictured below on his birthday in
Nov. 2003; he went to the Bridge Dec. 2003,
and remains on my home page because
he was one of several "Heartdogs", my last Golden
CH, and I'll forever miss his daily WooWoo's!
He was: Am/Can Ch. Morningsage Thriller, CD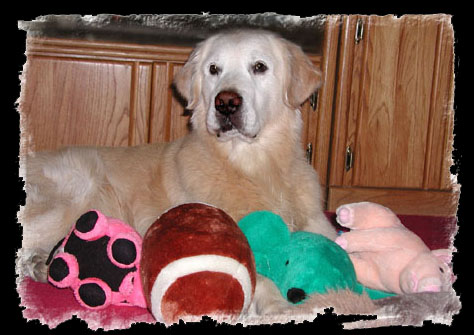 Please use the drop down navigation
below to view my Grooming Tutorials & many
photo pages. I'm proud of my current dog family and the many in my past!

Visitors since October 1, 1999